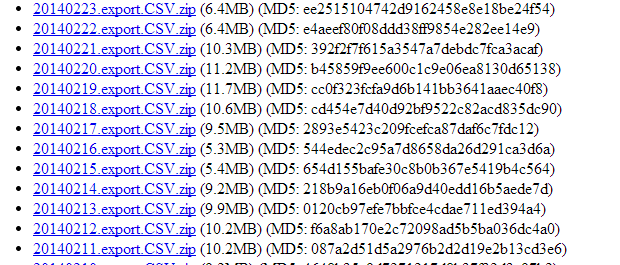 We are incredibly honored and excited to announce that in just its first week of existence, the new GDELT download service has served up just over 33,000 downloads to users across the world!
It has been honoring and humbling to create a project that is used by so many people around the world each day and it has been incredibly exciting to watch the global user community of GDELT grow at such an absolutely staggering rate.
To make it even easier to work with GDELT, we will shortly be rolling out a new web-based interactive query tool that will let you create custom extracts from the complete event dataset to meet your specific needs. Look for an announcement on this in the next few weeks. We are also currently beta testing a new network visualization tool for the GDELT Global Knowledge Graph that allows you to rapidly create network diagrams using the GKG and import them into Gephi.
Look for several announcements over the coming months as we roll out a collection of new tools for interacting and working with GDELT!