Reuters published a new infographic on Monday that uses World Health Organization data to map the spread of the ebola epidemic in Western Africa.   This piqued our interest in how GDELT might be used to track the ongoing epidemic.  While the CAMEO taxonomy used by GDELT's event database does not presently have categories devoted to disease outbreaks, the GDELT Global Knowledge Graph does have a fairly extensive database of common infectious diseases, including ebola.
The map below shows the results of using the GKG Heatmap Visualizer tool, part of the GDELT Analysis Service, to map the locations most closely discussed in conjunction with ebola over the past seven months.  These are not necessarily locations where ebola has been detected, but rather locations that are discussed frequently in news coverage of ebola.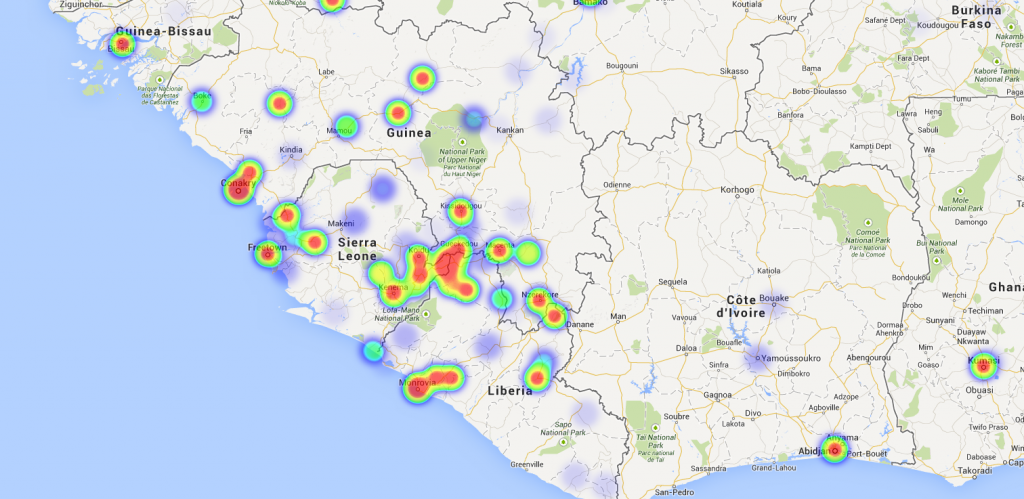 Though not a perfect match, this map strongly resembles Reuter's infographic based on actual field reporting from the ground.  It also captures the broader information environment around the disease, from a false alarm in Kumasi, Ghana, to violent protests in Bamako, Mali, school closings in Guinea, and Senegal's closing of its land border.  In contrast to Reuter's map, which only reports actual reported infections and deaths, the map above captures the broader context of the disease and its impact on the domestic populations, especially the widespread panic it is evoking.
The map below displays HealthMap.org's coverage of the outbreak, which is compiled and maintained by a team of human experts at Boston Children's Hospital using data streams from a wide array of international health and epidemiological sources.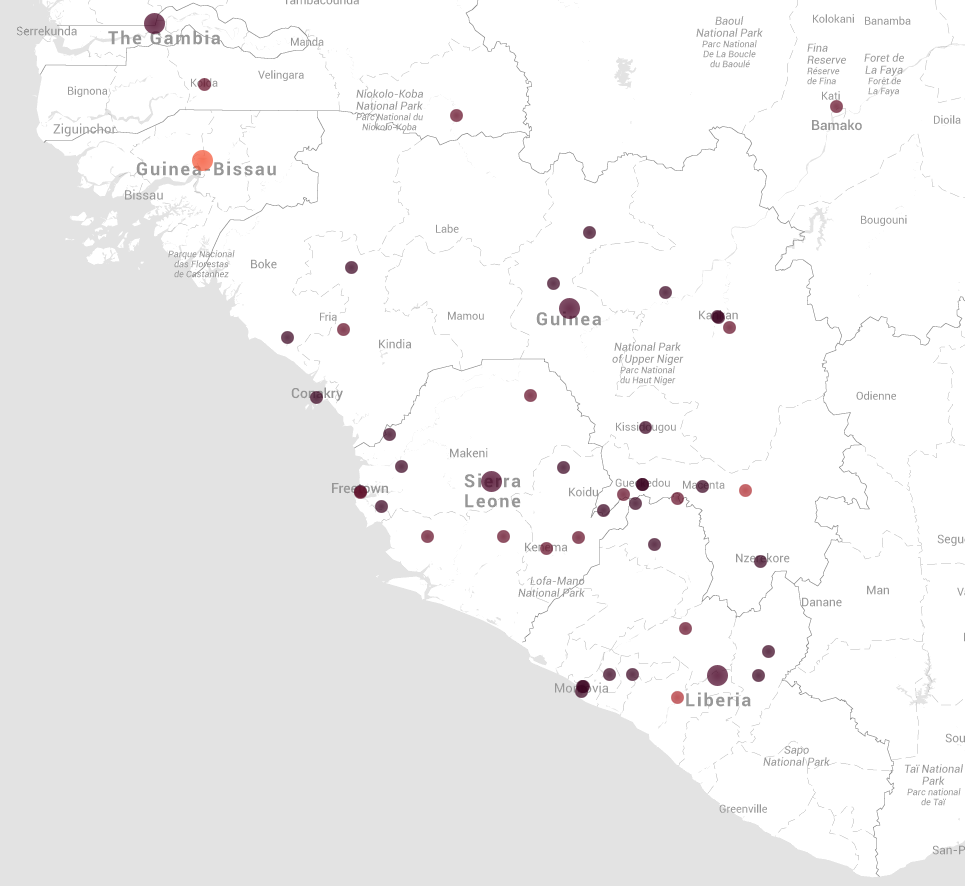 Despite being fully automated, GDELT matches the broad contours of the human expert compiled HealthMap map, in addition to extending it to the outbreak's broader impact on the population, such as the protests, false alarms, school closings, and other preventative and reactive events.
The GDELT Global Knowledge Graph offers a powerful gateway to map the world around us.