The report below represents a collaboration with an NGO that works to combat mis- and disinformation campaigns.
Seeing TV news presenters pointing to blown-up images of tweets on a big screen is now an integral aspect of contemporary broadcasting. From 2009 onward, encouraging the news media to embed tweets in digital reporting or to highlight them on-screen in television coverage was part of Twitter's strategy. Recently hired "news partnerships" staff traveled from newsroom to newsroom showing editors how this was done. As a result, Twitter became a household name, even for people who would never dream of logging on. They recognized the little blue bird and started to see more and more of these short messages included in news reporting.
Over a decade on, we have very little research about the ways in which newsrooms use Twitter content, mostly because of the methodological challenges of doing so. For this study, we decided to focus on the ways in which high-profile tweets appear in cable news by analyzing Donald Trump and Joe Biden tweets embedded in broadcast output by CNN, FOX News and MSNBC during the first eight months of 2020.
How many tweets by the two US presidential candidates featured in broadcasts by these three channels? How long did they stay on screen? How did the channels report on tweets that had been flagged or removed by Twitter? Seeing as these channels are often shown in public places without the audio, did misleading tweets provide on-screen context? Did the tweets alone set the agenda or did they simply support reporting that would have happened without the social media post? Does the debunking of a controversial or misleading tweet counteract any potential impact from surfacing the tweet to a wider audience not on the social platform?
Key Findings
The report is divided into these key findings:
Disproportionate Coverage: While there is a difference in the number of times the two candidates tweeted in the first eight months of this year, and sometimes more than one tweet was depicted on air at the same time, the three television channels gave an average of 18 times the airtime to Trump's tweets.  Over eight months, 1,290 unique Trump tweets were shown on screen compared with 112 Biden tweets.
Impact of Twitter Flags: While the dataset is too small to make causal claims, several tweets that had been flagged received considerable attention for having been flagged, suggesting further research is needed into whether flagging might drive additional attention to tweets that might otherwise have received less visibility.
Missing Context: While this research captured only on-screen footage, the absence of consistent flags, labels and/or chyrons when misleading tweets are shown could present a problem when people are watching these channels in public spaces or at home with the sound off or with other distractions.
Agenda-Setting and Election Integrity: A subcategory of the tweets was pulled out of the dataset for additional analysis. Between the start of the year and September 4, the three channels displayed 40 tweets by Trump that mentioned mail-in ballots, and his repeated but incorrect assertion that they will cause a fraudulent or "rigged" result, or other general commentary that the election result should not be trusted. These tweets were on air for a total of 92 minutes. That compares to just 72 minutes for tweets about any topic from Biden.
It is hard not to conclude that tweets on this subject have set the agenda for the news media over the last few months. With election experts continuing to explain that there are no serious reasons for concern, Trump's tweets have provided a news "peg" that has ensured this conversation has continued.
Unsurprisingly, this dataset couldn't answer all these questions, but it underlined the need to understand the dynamics shaping newsroom decisions. Would the topics included in the tweets by the two candidates have been covered without the tweets? Did the framing employed by the news outlets mirror the framing from the candidates or was it oppositional? We need to understand the factors that affect a TV producer focusing on a tweet as part of a segment. What makes it newsworthy?
Representatives from search and social platforms often complain privately about the role the news media play in amplifying content, irrespective of the decisions the platforms make to flag, demote or remove content. Unfortunately there is very little research on this question of news media amplification and its impact on audiences, mostly because it's so difficult to do methodologically. This new TV archive analysis approach allows us to visually analyze what is being shown on screen, not simply to rely on captions/transcripts (which even then can be very hard to access).
This type of content analysis allows us to start to understand the dynamics between social media content and traditional media. Too often researchers study content from social platforms as if it appears and is consumed in a vacuum. It's understandable, because just doing research on the platforms is difficult enough, but if we want to start understanding the information ecosystem as a whole, we need to start studying these kinds of dynamics.
This research underscores the importance of understanding the interplay between the mainstream and social mediums and that we cannot understand social media without understanding its influence on the news cycle. For example, the Berkman Klein Center for Internet & Society at Harvard University recently noted the role of social media in driving mainstream media emphasis on voter fraud narratives.
And of course, we need audience research. How do audiences consume political coverage on 24-hour news channels? Do these tweets resonate with audiences not on Twitter? What level of context do they seek when a misleading tweet is broadcast? Do chyrons with a fact check get noticed?
Methodology
To explore these questions, we used computer vision OCR technology to non-consumptively scan the entire onscreen text of CNN, Fox News and MSNBC frame by frame from January 1, 2020 through September 4, 2020, totaling more than 17,700 hours of programming using the Internet Archive's TV News Archive. We recorded every appearance of "@realDonaldTrump" or "@JoeBiden" and used a combination of human and machine analysis to link each onscreen appearance to the actual tweet being shown using the Trump Twitter Archive for Donald Trump. This data analysis was led by Roger Macdonald, founder of the Internet Archive's TV News Archive and Executive Director of the Media-Data Research Consortium, a project of Community Initiatives, and Kalev Leetaru from the GDELT Project. This analysis leverages Internet Archive's TV News Archive content utilizing data from the Visual Global Entity Graph 2.0 dataset, created in part through a Google Cloud COVID-19 Research Grant to support Quantifying the COVID-19 Public Health Media Narrative Through TV & Radio News Analysis. The full methodology and datasets are available for other researchers to analyze.
It's important to note that this analysis does not include verbal references to the tweets, which would result in significantly higher numbers, but we wanted to examine the depiction of tweets on screen as a signal of when a particular tweet was being discussed. It is also important to remember that not all tweets are credited to a Twitter handle. Twitter's role as an official communications medium means important tweets may simply be credited as if they were a spoken statement rather than a tweet. For example, half of all appearances of Trump's "when the looting starts, the shooting starts" tweet were credited simply to "Donald Trump" or "Trump" rather than "@realDonaldTrump." Thus, the numbers here likely significantly undercount on-screen appearances of tweets by the two candidates. There is also the possibility that OCR and algorithmic matching error may influence the results, as is our exclusion of very short tweets and video/image-only tweets and our counting of only the "best match" tweet when multiple tweets are displayed on-screen. See the methodology for full details. In the end, our goal is to demonstrate a new scalable approach to assessing the interplay and interaction effects between social and mainstream media and document just how much we're missing by ignoring the connection between these two mediums.
Key Findings
Disproportionate Coverage
Between January 1 and September 4, 2020, the three channels collectively dedicated over 22 hours of airtime to broadcasting Trump's tweets on screen. 1,290 different Trump tweets appeared in the dataset, meaning each of the tweets was reproduced on screen by at least one of the channels. In total, Trump tweeted 8,052 times during this same period (including deleted tweets) meaning the news channels included 16.02 per cent of his tweets in their reporting.
In comparison, the same three channels dedicated a total of just 1 hour and 13 minutes to featuring Biden's tweets in their broadcasting. Just 112 tweets out of a total 2,262 (4.95 per cent) published by the former vice president during this time period were deemed worthy of such screen "real estate."
| | | | |
| --- | --- | --- | --- |
| Airtime over 8 months | Trump's tweets | Biden's tweets | Total |
| MSNBC | 8.29 hours | 0.29 hours | 8.58 hours |
| CNN | 7.28 hours | 0.22 hours | 7.50 hours |
| FOX | 6.61 hours | 0.72 hours | 7.33 hours |
| Total | 22.18 hours | 1.23 hours | 23.41 hours |
Analyzing the broadcast screen time of the candidates' tweets over the past eight months shows that there has been a far greater focus on Trump's tweets throughout, when measured by total minutes.
There are differences by channel, however. CNN was much more likely to focus on Trump's tweets. It provided 33 times the coverage to Trump's tweets compared with Biden's. In comparison, MSNBC had 28 times the coverage, and FOX News dedicated nine times the coverage of Trump tweets compared with Biden. This difference is because FOX News was more likely to show Biden's tweets on screen. (For example, FOX News dedicated 5.6 minutes to Biden's tweet apology over his racial diversity comments, whereas CNN gave it 0.7 minutes and MSNBC gave it 2.2 minutes).
Trump significantly outpaces Biden in terms of overall airtime for tweets. However, looking at the median number of seconds of airtime per unique Biden and Trump tweet reveals a more equitable distribution of airtime coverage. Biden has a median of 22.5 seconds of airtime per tweet, while Trump has a median of 26 seconds of airtime per tweet.
While the distribution of airtime coverage for each candidate's tweets suggests a more level playing field (26 seconds versus 22.5 seconds), it skips over some significant outliers — tweets that received disproportionately more coverage than the median — which tip the scales back toward Trump. For example, five of the top ten Trump tweets received 15 minutes or more of screentime coverage, whereas Biden's top tweet received 8.65 minutes of screentime.
These numbers suggest that editorial decisions about what topics to cover are being shaped by Twitter posts, and that controversial tweets can become news events in their own right, creating visuals and talking points for these 24-hour news channels.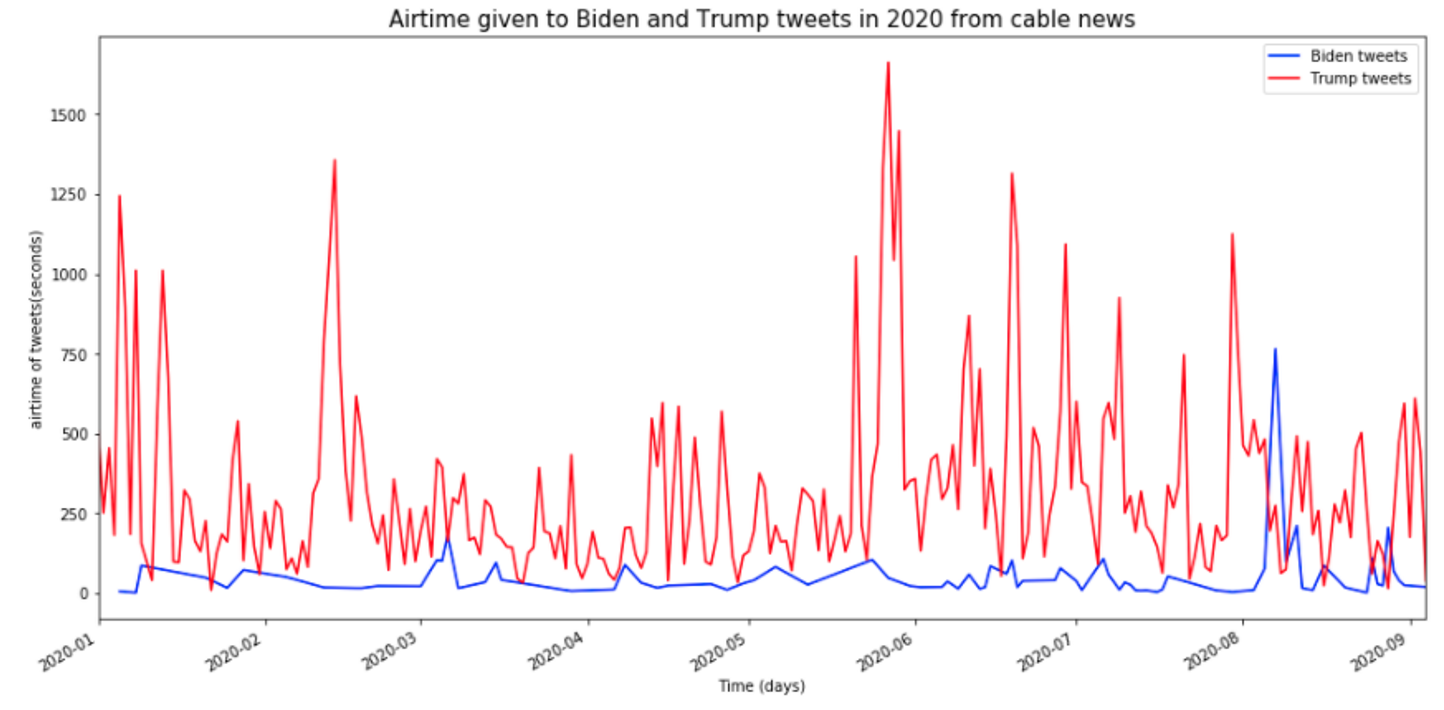 The Biden tweet that received the most coverage was from August, when he attempted to clarify a comment he had made about "diversity in the African American and Latino communities." As the graph shows, this is the only time that the amount of airtime of a Biden tweet is greater than airtime of Trump's tweets. Other topics receiving prominent airtime included Biden's announcement of Kamala Harris as his running mate, three tweets from early March just after Super Tuesday as Elizabeth Warren dropped out, and a tweet just after George Floyd's killing in May.
Impact of Twitter Flags
The Trump tweet that received the most coverage was from May 29, just after Floyd's death, and included the phrase "when the looting starts, the shooting starts." Twitter flagged this tweet with a notice explaining that while the post violated its rules, it would not be removed, as it was in the public interest for it to be accessible.
Of the top ten most-covered Trump tweets, one additional tweet was flagged by Twitter. It was a tweet that opened with the false claim: "There is NO WAY (ZERO!) that Mail-In Ballots will be anything less than substantially fraudulent." Twitter added a context box underneath with a link to additional information about mail-in ballots. It was the first time Twitter had added a context box to a tweet by the president in this way (it had added a "manipulated media" label to a deceptively edited Biden video in March), which would help to explain the reason for the news coverage.
But what these examples demonstrate is that the labels designed to limit the reach of certain tweets can potentially be a catalyst for additional television coverage to discuss Twitter's decision to add a label or provide extra context. This requires additional qualitative research to understand these dynamics.
Three of the other tweets that received the most broadcast screentime are from early January when tensions were running high with Iran after the downing of an airplane over Tehran. One additional tweet was also from January, and in it Trump thanked Chinese President Xi Jinping for working "very hard to contain the Coronavirus." Another well-covered coronavirus-related tweet was from July, when Trump tweeted a picture of himself wearing a mask for the first time.
Here are the top ten tweets, as measured by the amount of time an image of the tweet was shown on screen, for each candidate.
Biden*
Trump
Tweet
Total number of mins tweet on screen across three channels
Tweet
Total number of mins tweet on screen across three channels
Aug. 6, 2020

Earlier today, I made some comments about diversity in the African American and Latino communities that I want to clarify. In no way did I mean to suggest the African American community is a monolith—not by identity, not on issues, not at all.

8.65
May 29, 2020

….These THUGS are dishonoring the memory of George Floyd, and I won't let that happen. Just spoke to Governor Tim Walz and told him that the Military is with him all the way. Any difficulty and we will assume control but, when the looting starts, the shooting starts. Thank you! (https://twitter.com/realDonaldTrump/status/1266231100780744704)

23.2
Aug. 11, 2020

I have the great honor to announce that I've picked @KamalaHarris — a fearless fighter for the little guy, and one of the country's finest public servants — as my running mate.

2.77
July 30, 2020

With Universal Mail-In Voting (not Absentee Voting, which is good), 2020 will be the most INACCURATE & FRAUDULENT Election in history. It will be a great embarrassment to the USA. Delay the Election until people can properly, securely and safely vote??? https://twitter.com/realDonaldTrump/status/1288818160389558273

21.1
Aug. 6, 2020

Throughout my career I've witnessed the diversity of thought, background, and sentiment within the African American community. It's this diversity that makes our workplaces, communities, and country a better place.

2.45
Jan. 24, 2020

China has been working very hard to contain the Coronavirus. The United States greatly appreciates their efforts and transparency. It will all work out well. In particular, on behalf of the American People, I want to thank President Xi!

https://twitter.com/realDonaldTrump/status/1220818115354923009

17.4
March 5, 2020

Here's the deal, folks: social security is on the ballot this year, and the choice couldn't be clearer:

I'll protect and expand it. Donald Trump will cut it and take it away.

2.13
Jan. 7, 2020

All is well! Missiles launched from Iran at two military bases located in Iraq. Assessment of casualties & damages taking place now. So far, so good! We have the most powerful and well equipped military anywhere in the world, by far! I will be making a statement tomorrow morning.

https://twitter.com/realDonaldTrump/status/1214739853025394693

15.4
Aug. 27, 2020

When Donald Trump says tonight you won't be safe in Joe Biden's America, look around and ask yourself: How safe do you feel in Donald Trump's America?

1.88
Jan. 5, 2020

These Media Posts will serve as notification to the United States Congress that should Iran strike any U.S. person or target, the United States will quickly & fully strike back, & perhaps in a disproportionate manner. Such legal notice is not required, but is given nevertheless!

https://twitter.com/realDonaldTrump/status/1213919480574812160

15
July 5, 2020

We're going to beat Donald Trump. And when we do, we won't just rebuild this nation — we'll transform it.

1.78
Jan. 4, 2020

….targeted 52 Iranian sites (representing the 52 American hostages taken by Iran many years ago), some at a very high level & important to Iran & the Iranian culture, and those targets, and Iran itself, WILL BE HIT VERY FAST AND VERY HARD. The USA wants no more threats!

https://twitter.com/realDonaldTrump/status/1213593975732527112

14.5
June 18, 2020

Amy — from the moment you announced you were running for president in a snowstorm, it wasn't hard to see you had the grit and determination to do anything you set your mind to. You know how to get things done. With your help, we're going to beat Donald Trump.

https://twitter.com/JoeBiden/status/1273816170081193984

1.70
May 26, 2020

There is NO WAY (ZERO!) that Mail-In Ballots will be anything less than substantially fraudulent. Mail boxes will be robbed, ballots will be forged & even illegally printed out & fraudulently signed. The Governor of California is sending Ballots to millions of people, anyone…..

https://twitter.com/realDonaldTrump/status/1265255835124539392

13.6
March 5, 2020

Senator @EWarren is the fiercest of fighters for middle class families. Her work in Washington, in Massachusetts, and on the campaign trail has made a real difference in people's lives. We needed her voice in this race, and we need her continued work in the Senate.

https://twitter.com/JoeBiden/status/1235616060906205184

1.68
July 20, 2020

We are United in our effort to defeat the Invisible China Virus, and many people say that it is Patriotic to wear a face mask when you can't socially distance. There is nobody more Patriotic than me, your favorite President!

https://twitter.com/realDonaldTrump/status/1285299379746811915

13.5
Aug. 6, 2020

My commitment to you is this: I will always listen, I will never stop fighting for the African American community and I will never stop fighting for a more equitable future

https://twitter.com/JoeBiden/status/1291540508796428290

1.65

May 20, 2020

Michigan sends absentee ballot applications to 7.7 million people ahead of Primaries and the General Election. This was done illegally and without authorization by a rogue Secretary of State. I will ask to hold up funding to Michigan if they want to go down this Voter Fraud path!

https://twitter.com/realDonaldTrump/status/1263170880298942464

12.4
Aug. 9, 2020

It's been six years since Michael Brown's life was taken in Ferguson — reigniting a movement. We must continue the work of tackling systemic racism and reforming policing.

https://twitter.com/JoeBiden/status/1292505925685633025

1.57
June 28, 2020

Thank you to the great people of The Villages. The Radical Left Do Nothing Democrats will Fall in the Fall. Corrupt Joe is shot. See you soon!!!

Tweet that included a video showing a supporter yelling, "White power."

Trump deleted the tweet hours after posting it.

12.15

 

Total minutes
26.26
158.1
 
*A tweet that made it into the top ten was a "hacked" tweet from Biden from the July Twitter hack. We removed that tweet from the dataset.
Missing Context
What needs to be stressed here is that even if the spoken-word narration provides necessary contextual information, if the sound is muted when the actual tweet is reproduced on screen (such as in a public space like an office building or airport), the audience sees only the false or misleading message. Sometimes, the lower third (chyron) did provide context for the tweet, but this was certainly not always the case (as we can see from the illustration below).

To explore the consequences of this lack of contextualization, we need further research on audience response. How do these types of segments affect audiences? Do they drive them back to the platform for more context? Did any additional context from the television segment give them a greater understanding of the issue at hand?
Certainly these numbers show that Trump's tweets were the springboard for at least 20 hours of television content that included his tweets being broadcast directly on screen. While Trump has almost 87 million followers on Twitter, we don't know how many (real) people actually saw these tweets — either his followers or other Twitter users who saw retweets.
Audiences for these three networks represent a cross-section of people, many of whom might not follow the Trump Twitter account. There is no doubt that this TV coverage put Trump's tweets in front of people who otherwise would not have seen them.
Tweets about Electoral Integrity
This research vividly demonstrates how the president has been able to short-circuit the editorial decision-making process inside newsrooms. Of the 1,290 Trump tweets that appeared on screen over the eight months, 40 of them focused on mail-in ballots and questioned the integrity of the electoral process by making claims that have been debunked by electoral officials. (These tweets were identified by running a search using the following keywords and terms. The tweets were then manually checked and two tweets were removed that were false positives: 'illegally printed out', 'mail-in', 'substantially fraudulent', 'mail', 'ballots will be forged', 'voting security disaster', 'lost, thrown out', 'unsolicited ballots', 'ballot madness', 'ballot scam', 'mail drop boxes', 'person to vote multiple times', 'election disaster yesterday', 'no way (zero!)', 'mail-in ballots will be anything', 'mail boxes will be robbed', 'ballots will be forged', 'fraudulently signed', 'this will be a rigged election', 'ballot hoax', 'ballot scam', 'greatest election fraud', 'rigged 2020 election', 'ballot'.) Between May and September 4, Twitter flagged five of these 40 tweets by the president related to mail-in ballots or election integrity.
In total, across the three channels, 92 minutes of airtime were dedicated to showing these tweets by Trump related to mail-in ballots, his repeated but incorrect assertion that they will cause a fraudulent or "rigged" result, or other general commentary that the election result should not be trusted.
| | |
| --- | --- |
| MSNBC | 36.3 minutes |
| CNN | 33.31 minutes |
| FOX | 22.85 minutes |
| Total | 92.46 minutes |
Without these tweets, the question is whether the television news channels would have dedicated this amount of time to reporting on false claims about mail-in ballots and election security. As recent research by academics at Harvard also shows, the mainstream media has played a key role in pushing the narrative of mail-in ballot fraud.
Conclusions
The next round of research questions requires additional qualitative research. Simply counting how much coverage is not enough. We need to understand how the different channels used these tweets to drive and shape coverage, and how they discussed Trump's claims. Did they verbally fact check the statements? Did they provide additional context to the issue of mail-in voting? Did they signal additional resources for voters to seek out so they could research the topic themselves?
There are questions here for television newsrooms. What is the criteria for covering social media posts from politicians and other influencers? Are they enough to justify a story in their own right? And does that standard change if the content of the social media post is false or misleading? While it could be argued that the newsworthiness increases, should there be a visual industry standard for demonstrating to audiences (particularly those who can't hear the presenter or talking heads) that there is important context to the post?
This research raises more questions that need to be answered, and we would welcome other researchers investigating this dataset. Every segment can be reviewed for analysis and later citation. Content analysis of the broadcast context for every visual presentation of a tweet can be pursued using the TV News Archive. For example, every segment concerning the president's August 23 tweet, flagged for violating Twitter Rules about both election integrity and making misleading health claims, can be inspected and cited. Fox News aired two segments: 1st & 2nd.  MSNBC aired six segments: 1st, 2nd, 3rd, 4th, 5th & 6th. CNN aired nine segments: 1st, 2nd, 3rd, 4th, 5th, 6th, 7th, 8th & 9th.
This research is a reminder that tweets from the president are driving coverage decisions within newsrooms. What remains unknown is the impact on audiences.