Earlier today three suicide bombers attacked three different areas on the island of Koulfoua in Lake Chad, killing at least 27 and injuring more than 80. To illustrate how the new GDELT APIs can be used to flag and understand a terror attack like this, the graphs below show the results as of 1PM EST. Results from the Stability Timeline API and the Thematic Word Cloud API are shown.
INSTABILITY TIMELINE
Here the attacks can be seen in sharp relief in the instability timeline of the last 7 days, with a sudden massive vertical surge to four times previous levels. (See current timeline).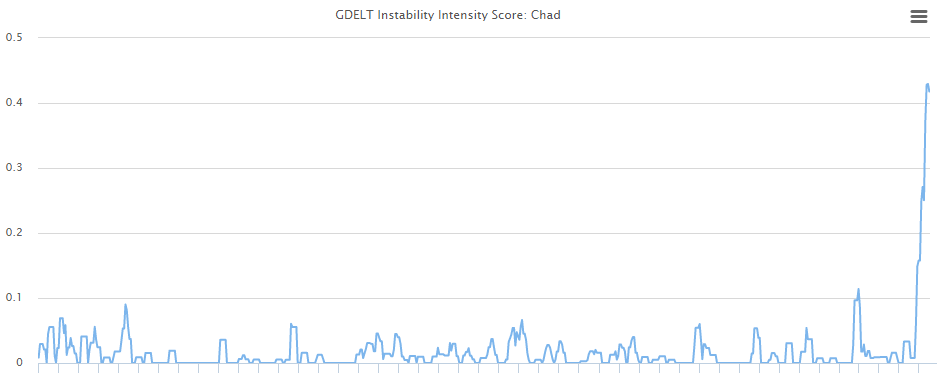 TONE TIMELINE
The attacks are also clearly indicated in the tone timeline for Chad with a sharp negative surge. The previous surge seen earlier in the graph on December 1st capture discussion of climate change and resource impacts on the Lake Chad region and its impact on terrorism, along with UN urging of a concerted thrust to eliminate Boko Haram's presence in the area. (See current timeline).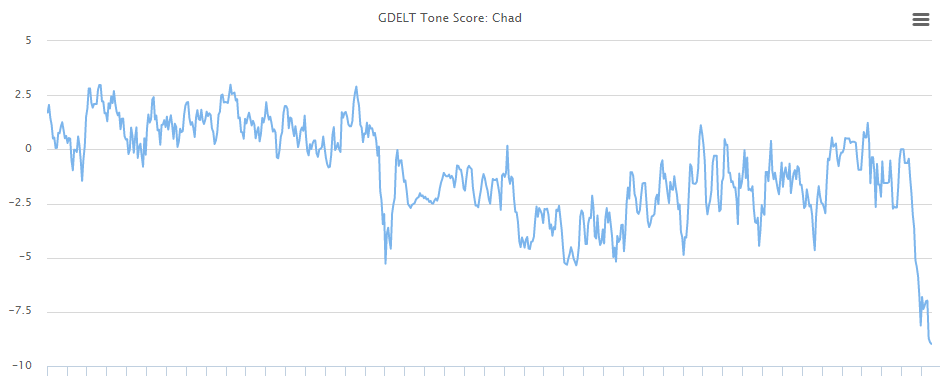 MEDIA VOLUME TIMELINE
The climate change and UN talks that led to the increase in negative tone can be seen in the graph below, along with the vertical surge in coverage of Chad as international news outlets begin to pick up the story.  (See current timeline).
TOP TOPICS WORD CLOUD
The top topics word cloud shows the overall top topics being discussed in the last two hours. Nearly all of the topics relate to the terror attack, from Suicide Attack to Boko Haram to Islamic State to State of Emergency and Displaced. (See current word cloud).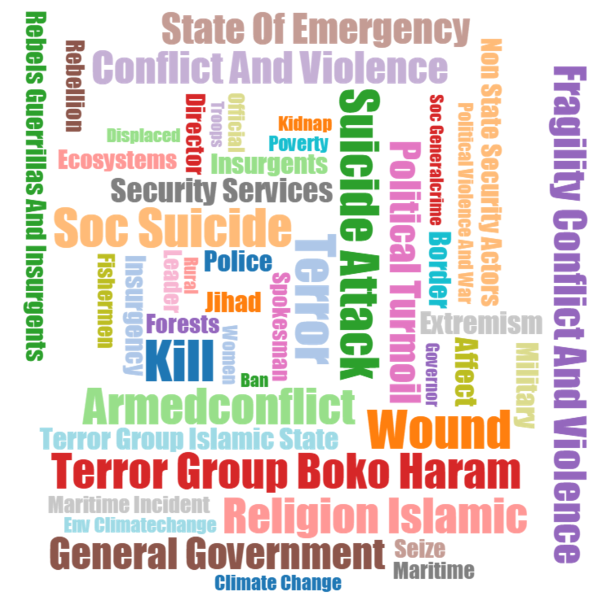 TRENDING TOPICS WORD CLOUD
The trending topics word cloud shows the topics that are appearing more in the last two hours than the previous two hours. This looks largely similar to the word cloud above, but with a broader variety of themes like Jihad and Explosives, Women, etc, which provide additional context. Trending graphs often show a larger number and greater diversity of topics since they reflect the broad surge of contextual topics that attend a sudden-onset event. (See current word cloud).