One of the most exciting announcements that will be coming shortly to GDELT is a fundamental new way of working with its massive archives of data. Perhaps one of the most exciting new capabilities that will be announced is the new GDELT "TimeMapper" system. The TimeMapper system allows you to search the full quarter-billion-record GDELT event database for events matching your search criteria and get back a time-coded Google Earth .KML file that allows you to explore the results over both time and space simultaneously.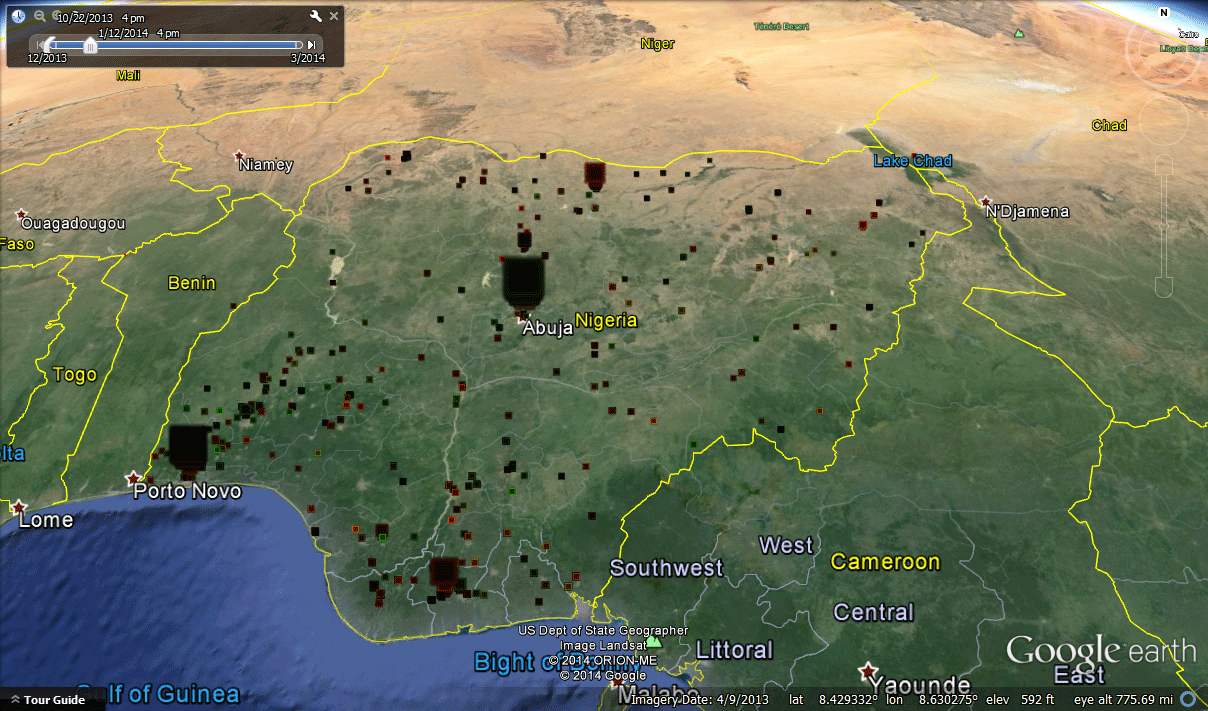 The animation above shows the output of the TimeMapper tool for all events happening in Nigeria January 1, 2014 to March 25, 2014. Events coded as "cooperative" are colored green, while "conflict" events are red, and the brightness of the green or red corresponds to the "GoldsteinScale" of the event (basically this is a score assigned to each event type to tell you that a violent riot is more negative than a peaceful protest, that delivery of food aid is more positive than a mere promise of possible future aid, etc – it doesn't measure this specific event, just the type of event).
At each location it sums up the total number of events at that location on that date, so clicking on a point will show you how many total events were found at that location on that date, and display a sample URL of one of those events. Points are sized based on the number of events there (larger dots indicate more events occurred there on that date).
All events are timecoded, so Google Earth will display its "time slider" tool in the upper-left of your screen and you can adjust to a more narrow time slice and move through time. Try setting the time slider to a 1- or 2-week time period and scroll the time slider back and forth – you can see "waves" of events, especially in the south of the country.
Give it a try for yourself! Right-click on the link below and download it to your computer, then make sure you have Google Earth installed on your computer and open the file in Google Earth and check it out!
Now, imagine a map like this, but covering the entire world, and updating live minute-by-minute as events transpire around the world. Keep checking back here on the GDELT site – something very exciting is going to be announced in the next few weeks…
 Try the TimeMapper Tool yourself!