A clip on Russia 24 last night at 10:35PM featured this infographic of claimed Ukrainian casualties which appears to mark a new narrative strategy by the Russian media to display such information in compact infographic format on television news.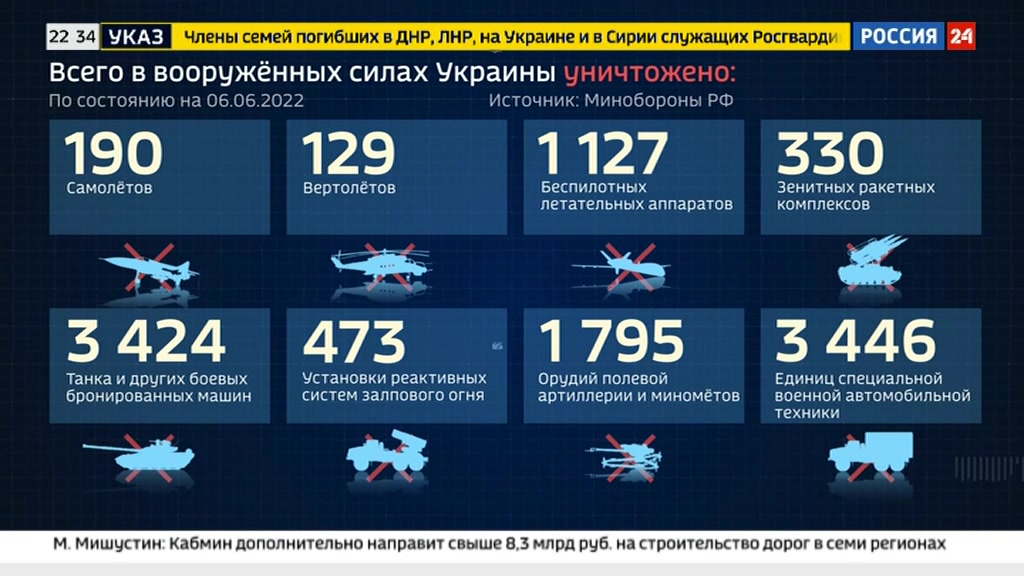 If you download the image above and drag-drop it onto Google's Cloud Vision API demo page, you'll get the following transcription:
22 34 УКАЗЧлены семей погибших в ДНР, ЛНР, на Украине и в Сирии служащих Росгварди РОССИЯ 24
Всего в вооружённых силах Украины уничтожено:
По состоянию на 06.06.2022
Источник: Минобороны РФ
190
129
1127
330
Самолётов
Вертолётов
Беспилотных
летательных аппаратов
Зенитных ракетных
комплексов
3 424
473
1795
3 446
Танка и других боевbIX
бронированных машин
установки реактивных
СИСТЕм залпового огня
Орудий полевой
артиллерии и миномётов
Единиц специальной
военной автомобильной
техники
М.Мишустин: Кабмин дополнительно направит свыше 8,3 млрд руб. на строительство дорог в семи регионах
Google Translate translates this as:
22 34 Families of members of the National Guard who died in the DPR, LPR, Ukraine and Syria RUSSIA 24
In total, the armed forces of Ukraine destroyed:
As of 06.06.2022
Source: Ministry of Defense of the Russian Federation
190
129
1127
330
aircraft
Helicopters
Unmanned
aircraft
anti-aircraft missile
complexes
3424
473
1795
3446
Tank and other fightsbIX
armored vehicles
jet installations
salvo fire systems
field guns
artillery and mortars
units of special
military automobile
technology
Mikhail Mishustin: The Cabinet of Ministers will allocate more than 8.3 billion rubles. for road construction in seven regions
This corresponds with an English-language Russian MOD statement on Ukrainian casualties: "In total, 190 Ukrainian aircraft and 129 helicopters, 1,127 unmanned aerial vehicles, 330 anti-aircraft missile systems, 3,424 tanks and other armored combat vehicles, 473 multiple launch rocket systems, 1,795 field artillery and mortars, as well as 3,446 units of special military vehicles were destroyed during the operation."