Updated 12:35PM – Steven Davis pointed out that on an annualized basis the EPU/EU ratio has actually climbed considerably over Trump's presidency even if that trend is less apparently on a month-to-month basis, though it seems to be stabilizing around 40% over the course of 2019 – see graph at bottom.
What is driving the recent increase in media coverage of Economic Uncertainty? Is it political measures? The Economic Policy Uncertainty measure uses the same base search as Economic Uncertainty, but adds several policy-related terms.
The timeline below shows the percentage of airtime on CNN, MSNBC and Fox News that mentioned "(economic OR economy) AND (uncertainty OR uncertain) AND (policy OR legislation OR regulation OR government OR president OR congress OR parliament)" from 2009-2019.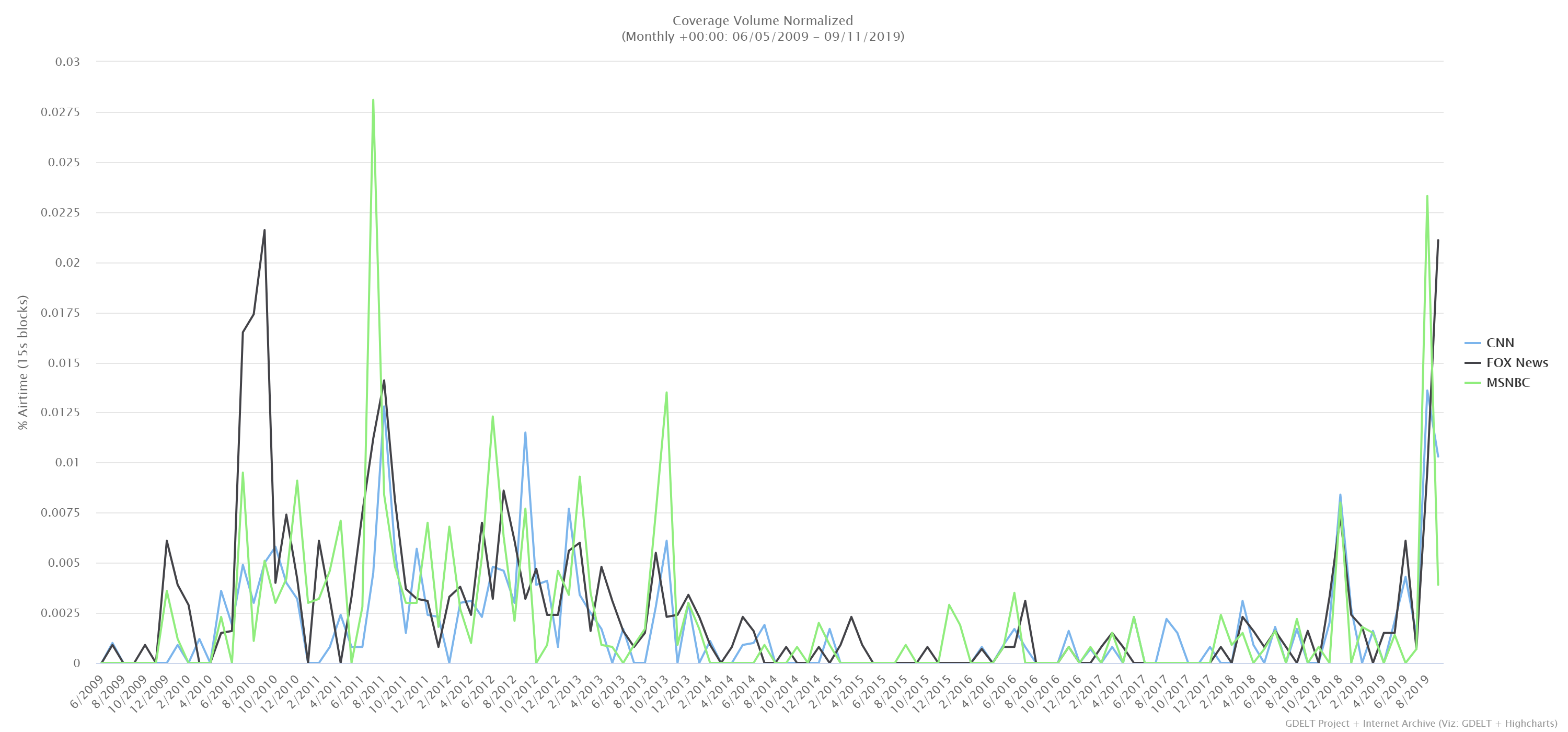 At first glance, this timeline looks remarkably similar to the Economic Uncertainty graph over the same time period.
However, the timeline below superimposes the two.

It is clear that the two are related, but EPU does not appear to appreciably constitute a greater percentage of EU coverage today than it did in the past on a month by month basis.
The timeline below reinforces this, plotting EPU coverage as a percentage of EU coverage.

Over the past year EPU has averaged around 40% of total EU coverage on a monthly basis, but this is just a bit above where it was in 2012 and the trend is stable rather than increasing. The difference is that 2012 had far greater variability whereas today the ratio is stabilizing fairly consistently around 40%.
Thus, on an annualized basis, EPU has steadily increased year over year since the election of Trump.